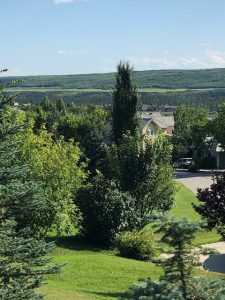 The Slopes is named because of the natural features of the land. The terrain requires careful consideration when designing homes or other amenities. View corridors to the Elbow Valley west to the mountains from each lot need to be protected through thoughtful building placement, design and planning on each site. Each site is unique and requires a careful approach to building design. Landscape design requires an understanding of the micro climate of the hillside that changes from the top of the community down to the bottom. Significant landscaping is encouraged to add value to the community as well as the home.
Because the Slopes Community is now mostly developed, it is important to consider and consult with neighbours as well as the Slopes Design Community prior to beginning design and new construction on properties. The following guidelines are intended to assist you in making decisions regarding your construction and or renovation projects. Take the time to explore and research your options with respect to siting, topography, view options, weather, site drainage, and neighbouring properties.
We encourage creative site-specific integrated design and strongly recommend the use of qualified and skilled architects or designers. We also encourage a variety of design styles from traditional to contemporary with a sensitive selection of quality finish materials and colours suitable to the overall design. Landscaping should be given priority in the development of your property.
We are proud of our community and its development. It is unique in the City of Calgary. Our desire is that it continues to evolve in a special way.