We just received some very good news resulting from our efforts to ensure that the proposed Enmax Transmission lines are built on the south side of Highway 8, closer to Discovery Ridge (Enmax's preferred route, noted in orange below), rather than close to the Slopes which was Enmax's alternate route (purple below).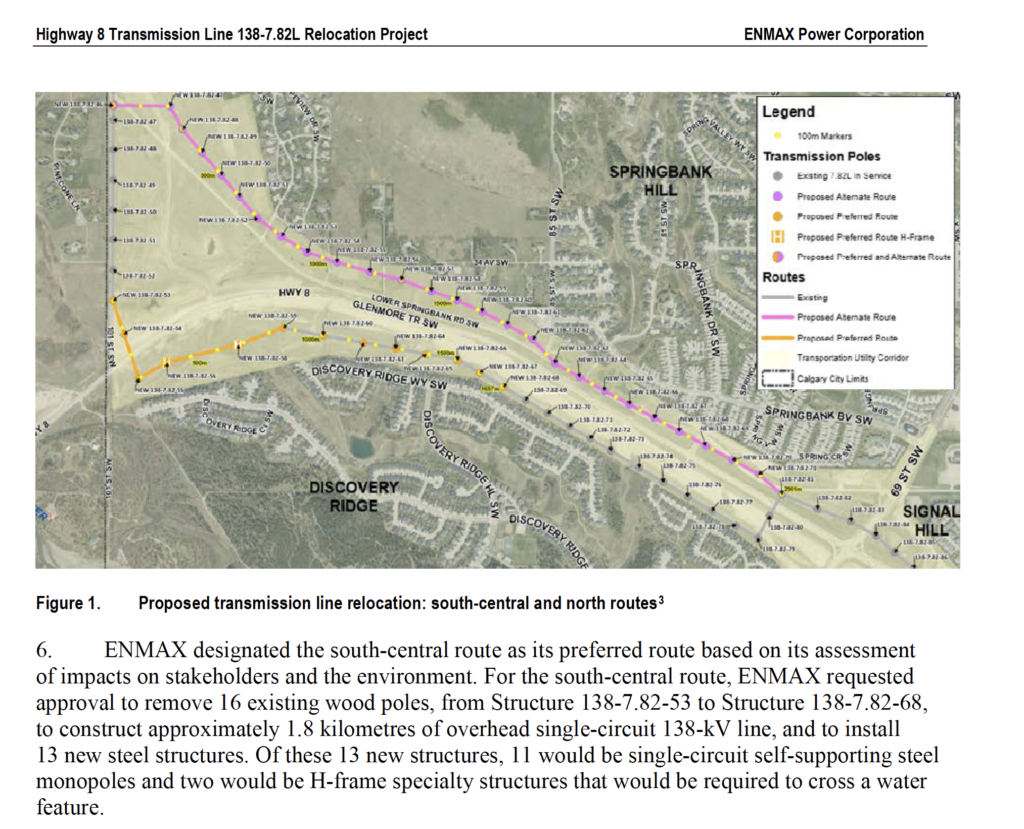 The Decision summary is as follows and the Decision is attached below:
Decision summary
1. In this decision, the Alberta Utilities Commission considers whether to approve an application from ENMAX Power Corporation to alter and operate Transmission Line 138-7.82L near Highway 8 in the southwest quadrant of the city of Calgary.
2. After consideration of the record of the proceeding, and for the reasons outlined in this decision, the Commission finds that approval of ENMAX's preferred route is in the public interest, having regard to the social and economic effects of the project and its effect on the environment, in accordance with Section 17 of the Alberta Utilities Commission Act.
Pursuant to sections 14, 15, 19 and 21 of the Hydro and Electric Energy Act, the Commission approves Application 24831-A001. The facilities in this application would all be located within the TUC. Pursuant to the Calgary Restricted Development Area Regulations the Commission cannot issue a permit and licence for the construction and operation of facilities within the TUC without the written consent of the Minister of Infrastructure. The permit and licence for the project will therefore be issued once the written consent of the Minister of Infrastructure has been filed with the Commission.
Click here to view the full decision.
We wish to give a huge shout out of thanks to all those who worked so hard on behalf of The Slopes Community. Thank you to all who participated and provided support, attended Enmax open houses and the AUC Hearing, and who wrote letters to bolster The Slopes case to have the transmission lines located along Enmax's preferred route. We owe them a great round of applause for their efforts to maintain our property values and free from unsightly transmission lines.
Consultants
Legal Consultant: Nancy McKenzie
Technical Consultant Trevor Cline